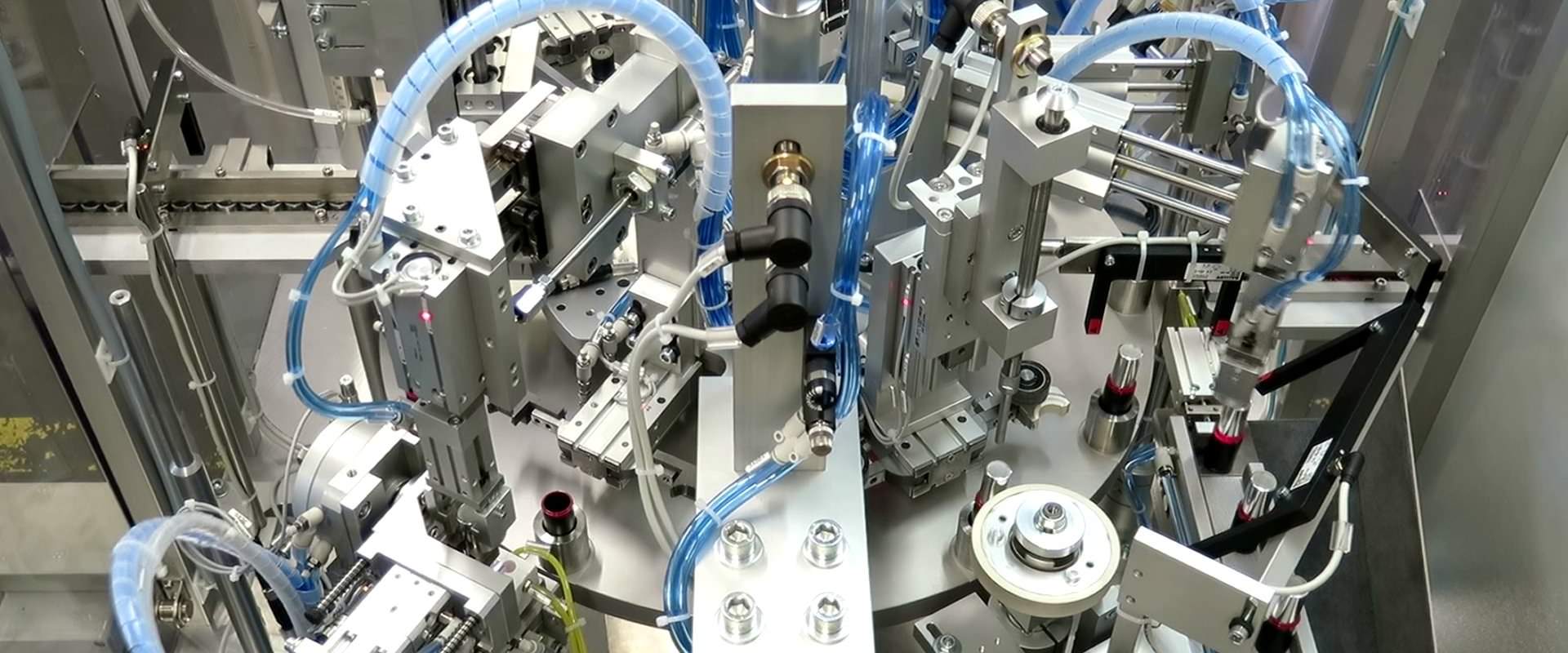 delsa builds machines to automatically assemble different types of products, with particular attention to cosmetic items. delsa machines can automate any assembly process which requires a linear operation sequence and a large number of items to be produced.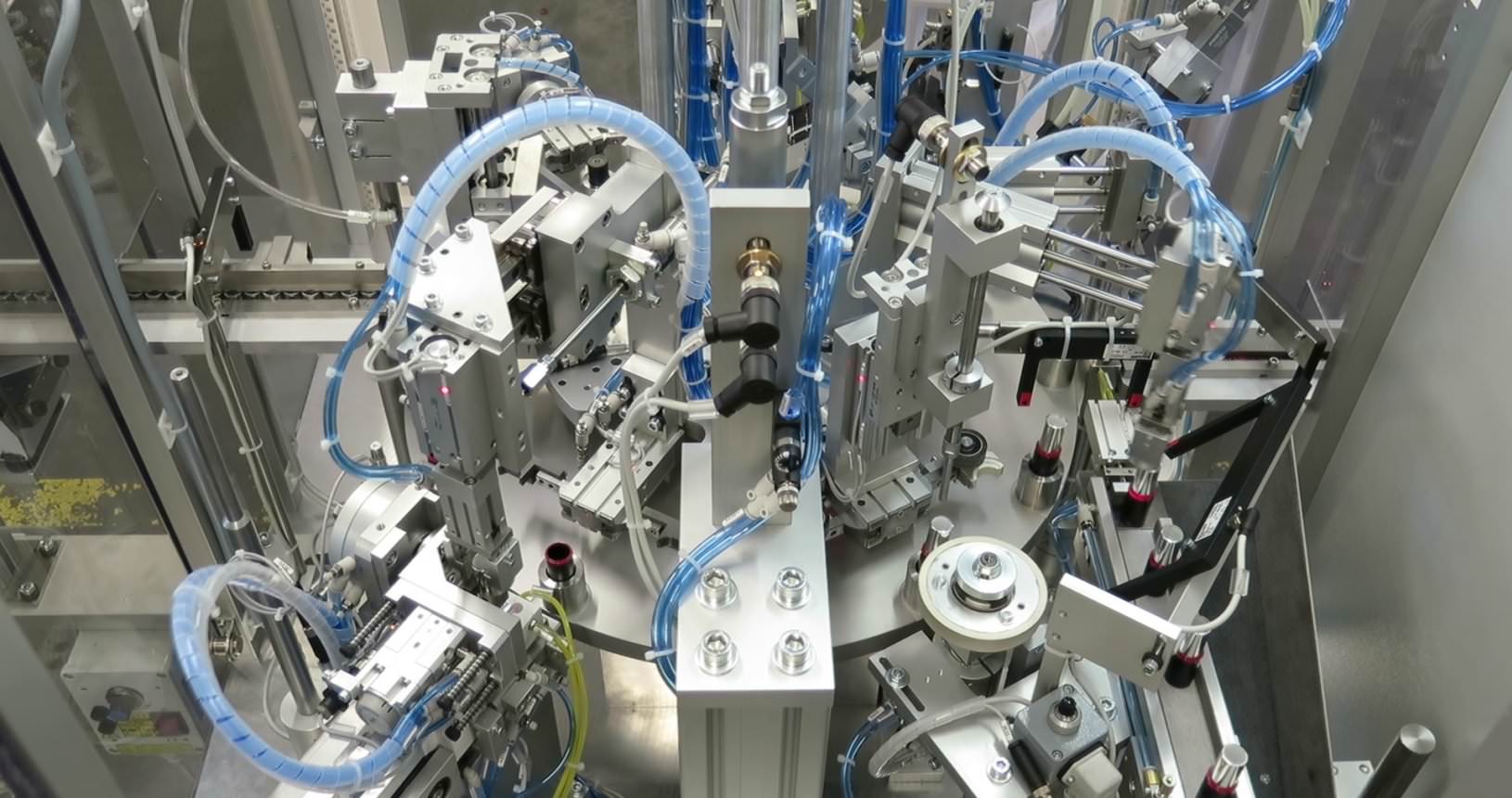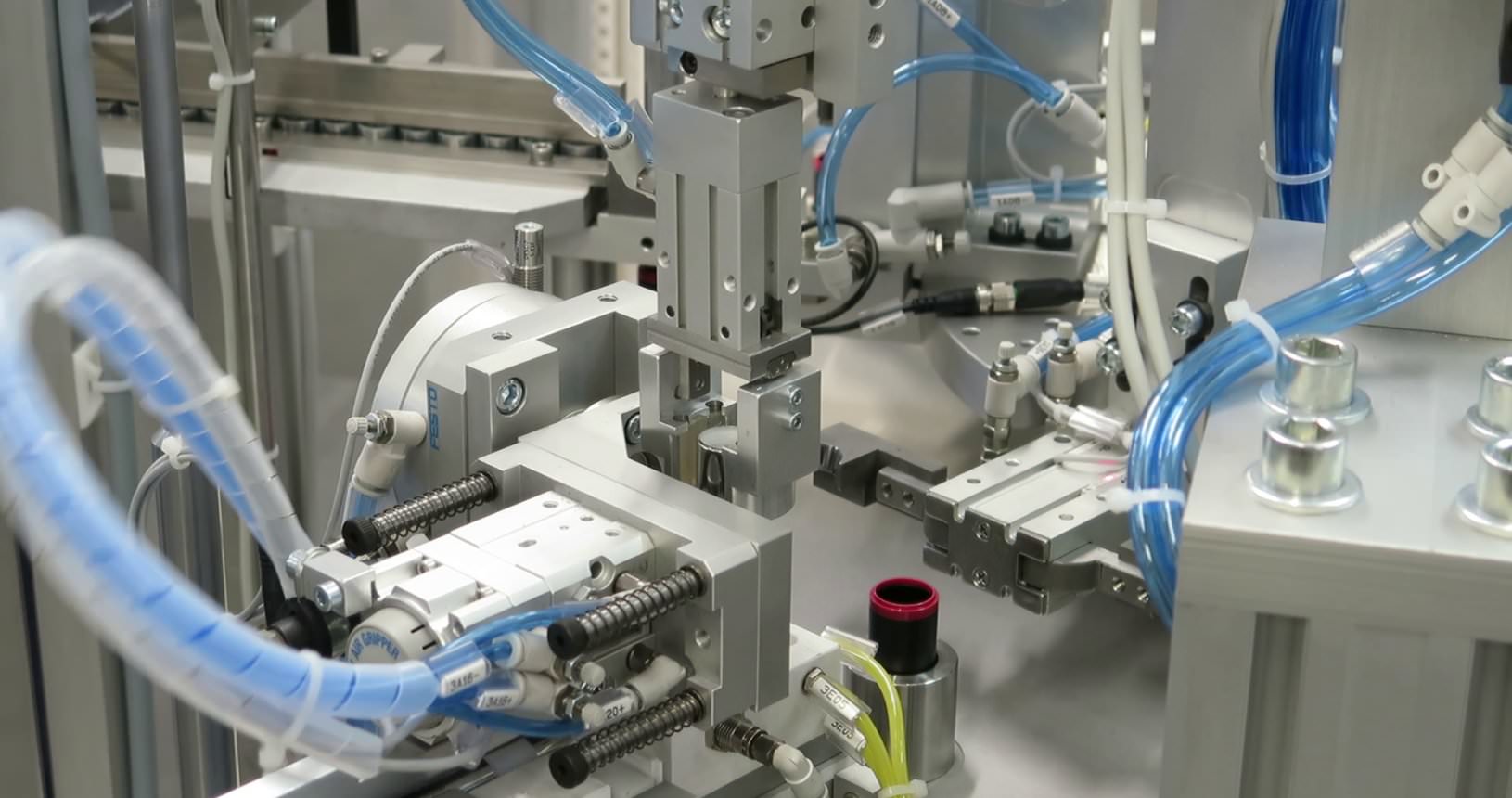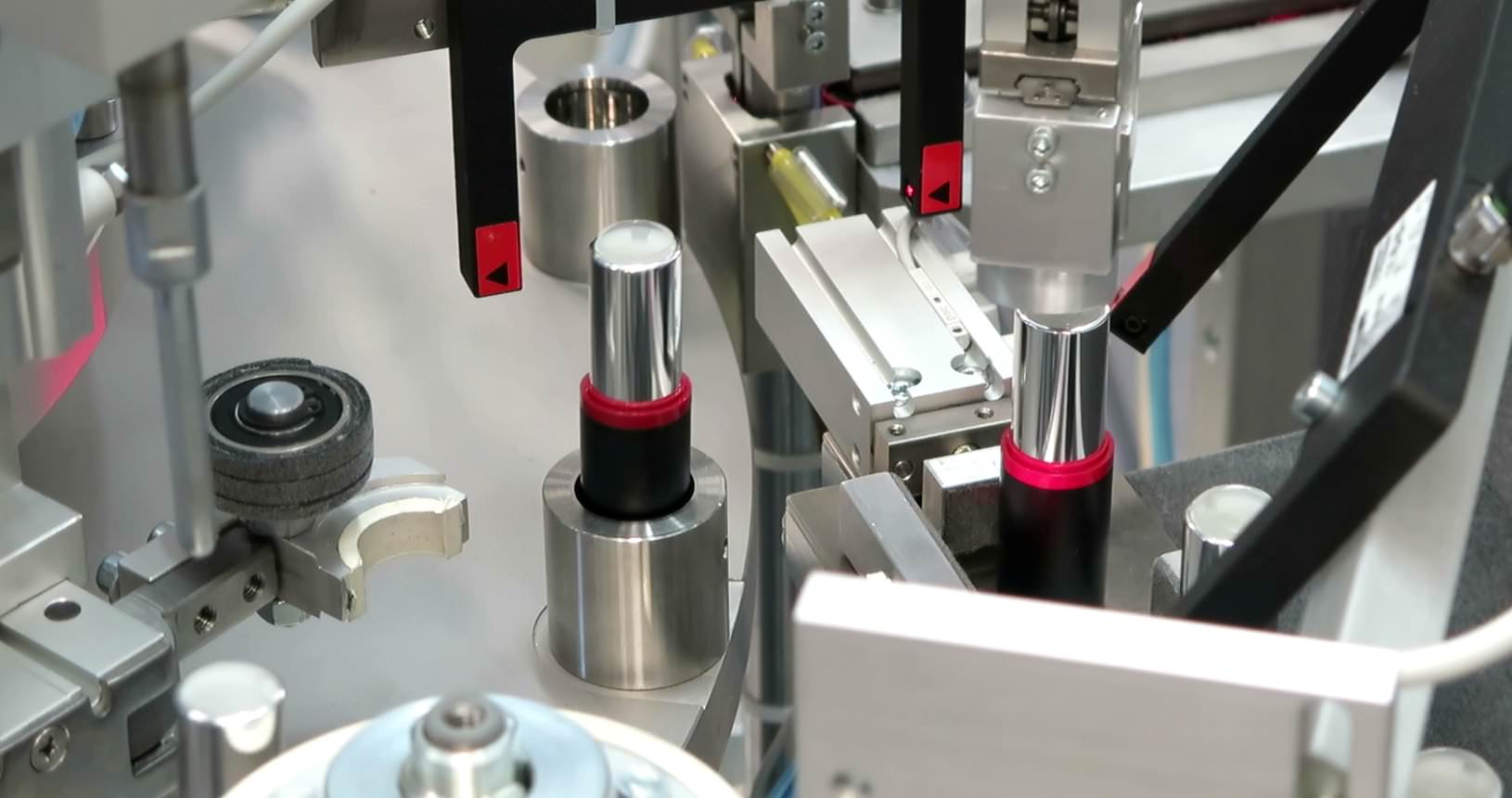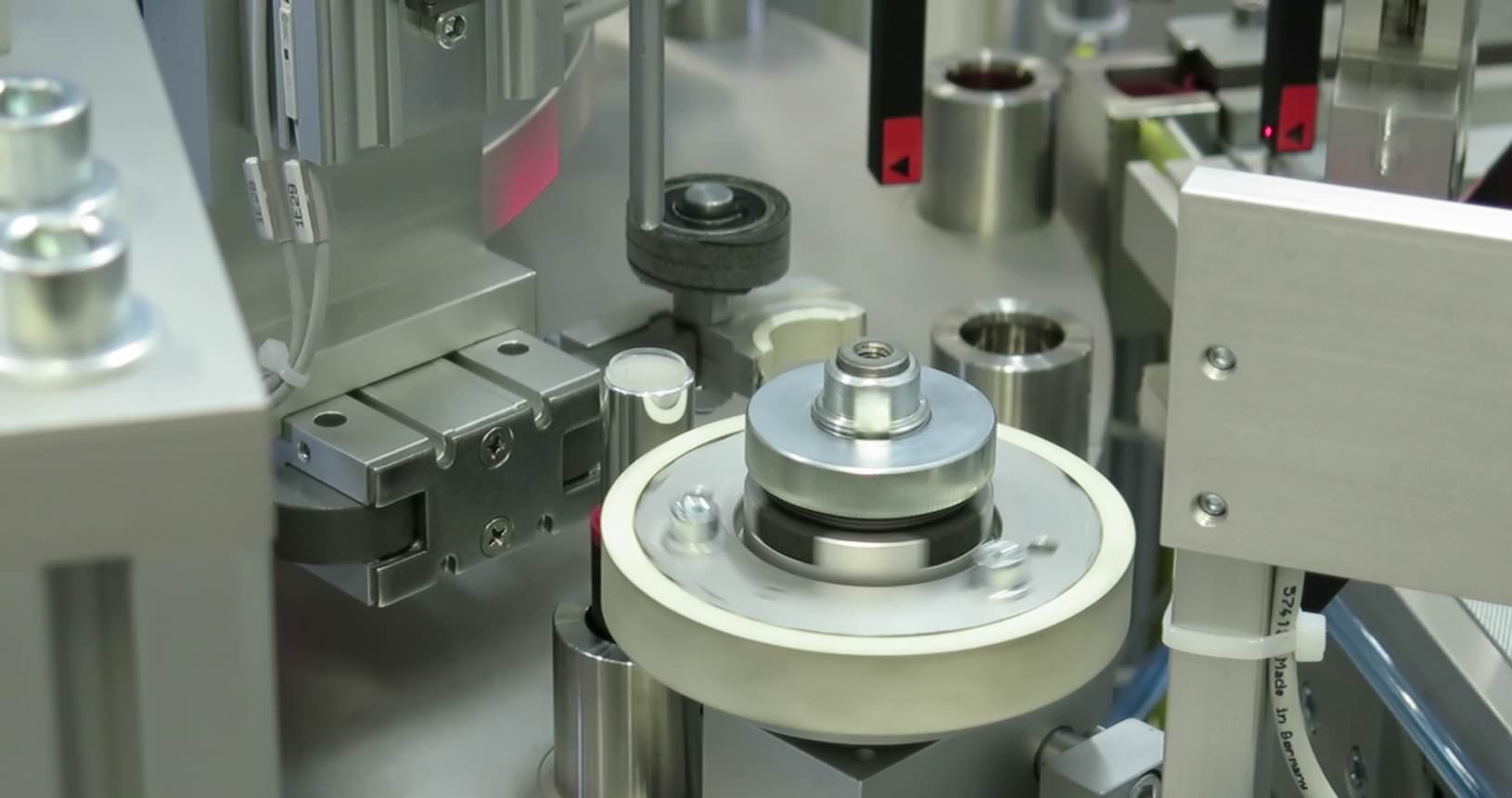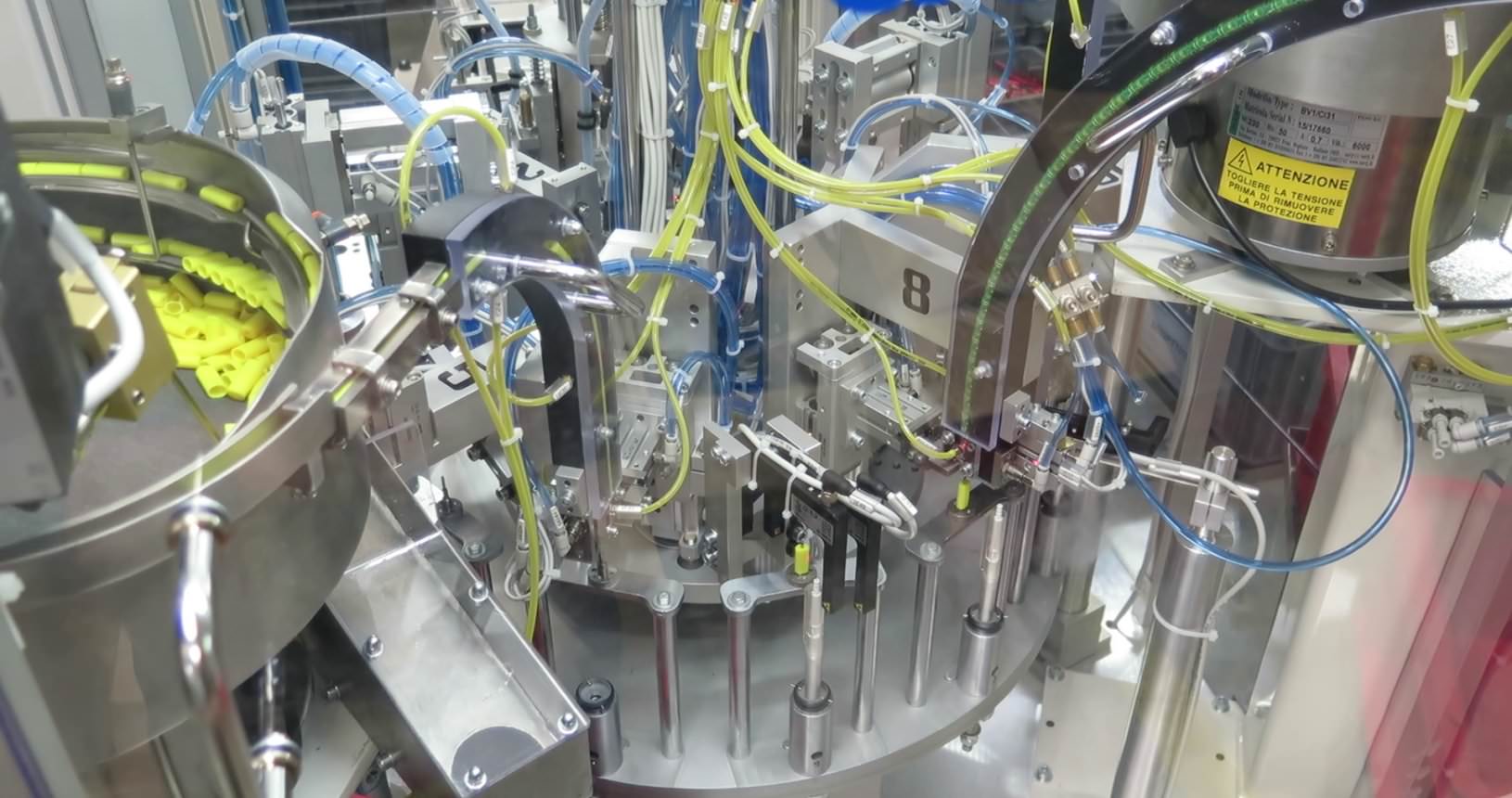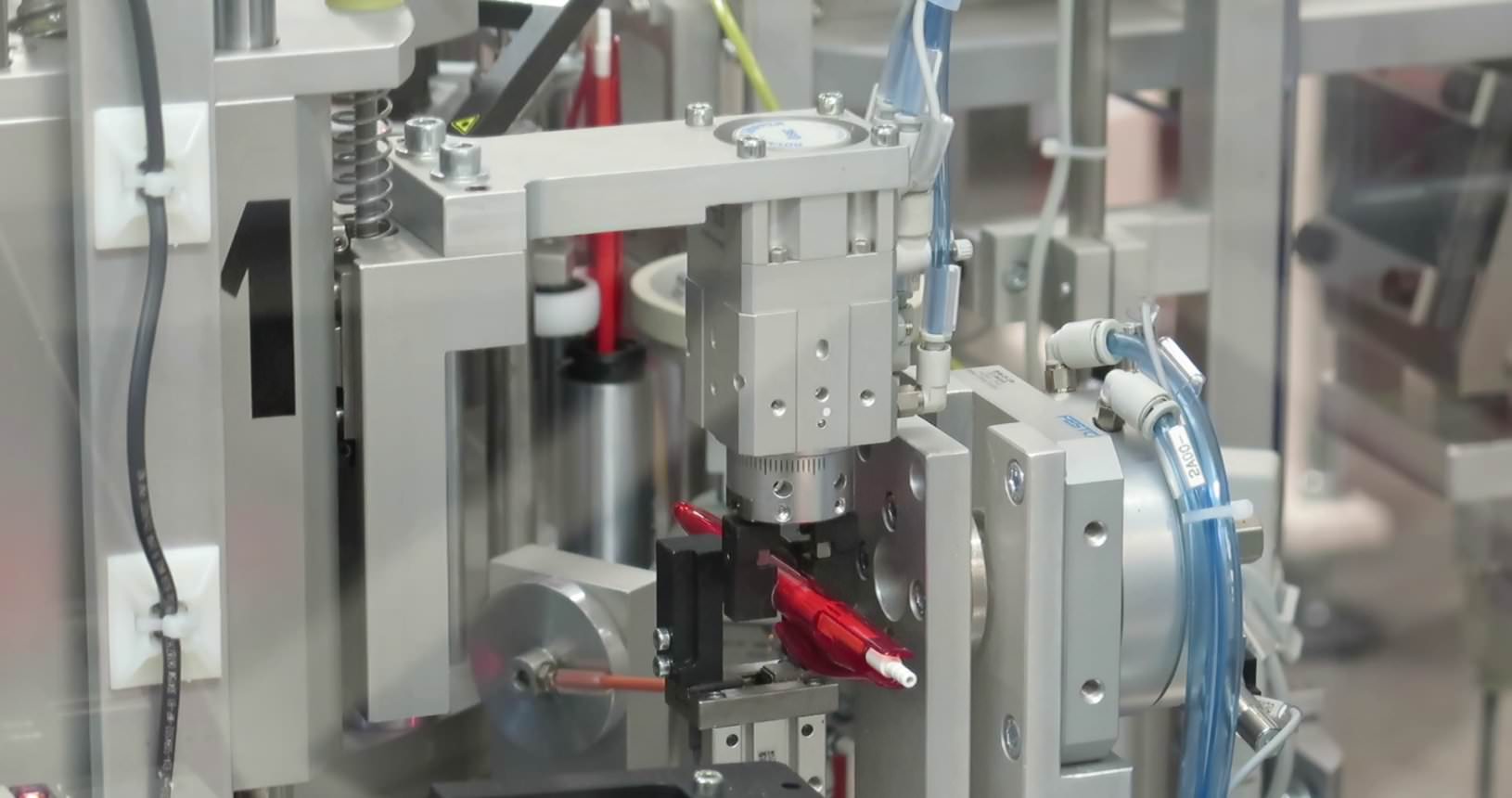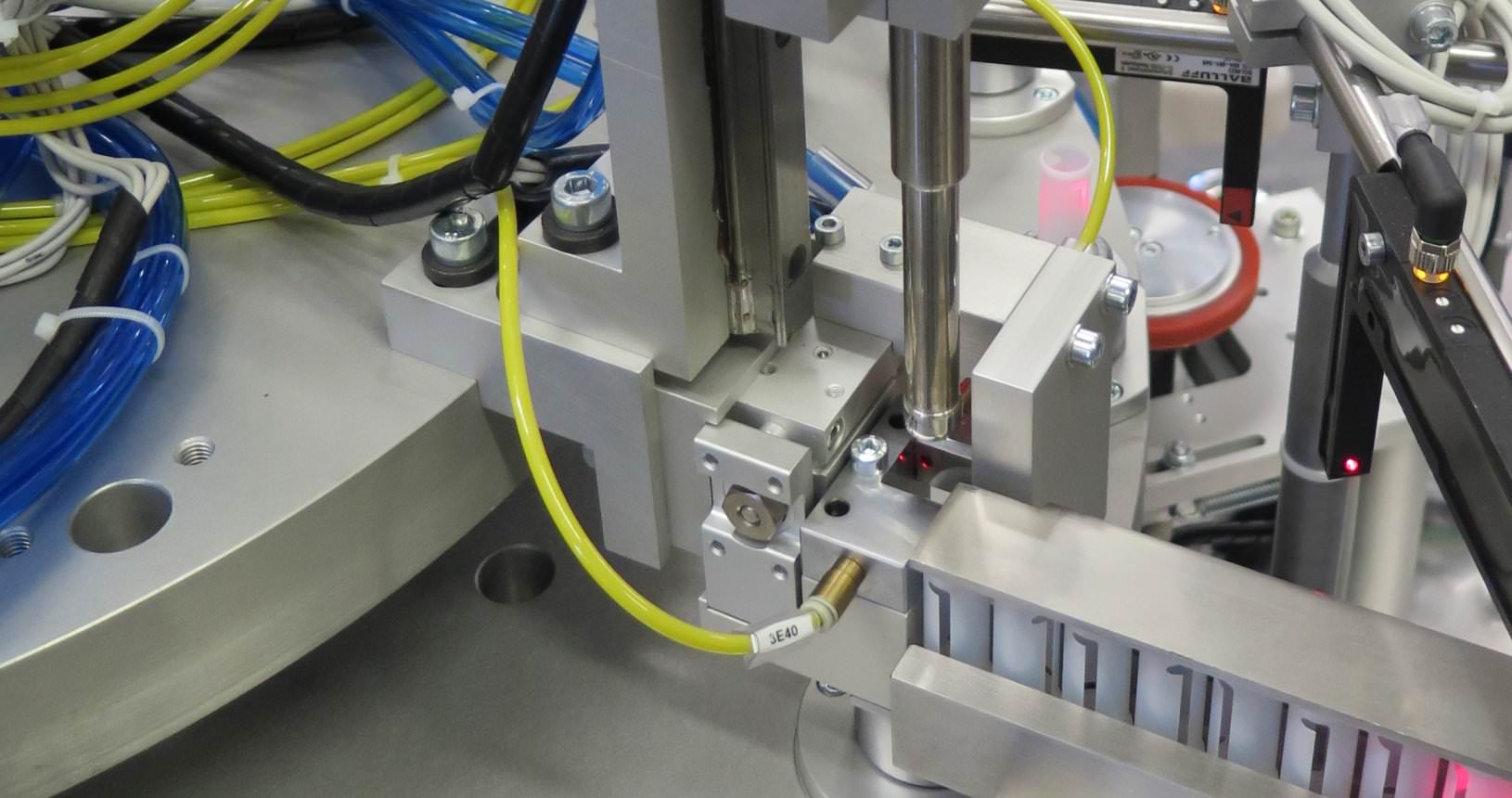 The assembly machine are normally composed of:

- a series of FEEDERS
to load any item to be assembled. The most common type used by delsa are:
• vibratory feeders
• blade feeders
• centrifugal feeders
It generally starts with boxes or bags of bulk pieces, which neatly come out of the feeder , for example aligned on a transfer conveyor belt or on a vibrating channel.
A tray picking or manual loading can be provided for specific items.
- a series of MECHANICAL ARMS
they're powered by electric and / or pneumatic actuators or by mechanical cams which pick the parts up from the feeders and then load them on a transport module.

- a TRANSPORT MODULE
it consists of a rotating table or a pallet chain, which allows the assembly process to be divided over several stations. At the end of the work of all the stations, the module make the pieces foward and the cycle begins again.
Stations can also carry out different operations, such as:
• assembly
• quality control
• stamping.
- an UNLOADING ARM
it takesthe assembled piece from the transport module and then deposits it on a unloading belt or in a box. This arm also performs the selection between conform pieces and waste.
Modules are available for carrying out further operations on the finished parts, such as:
• boxing
• tray forming.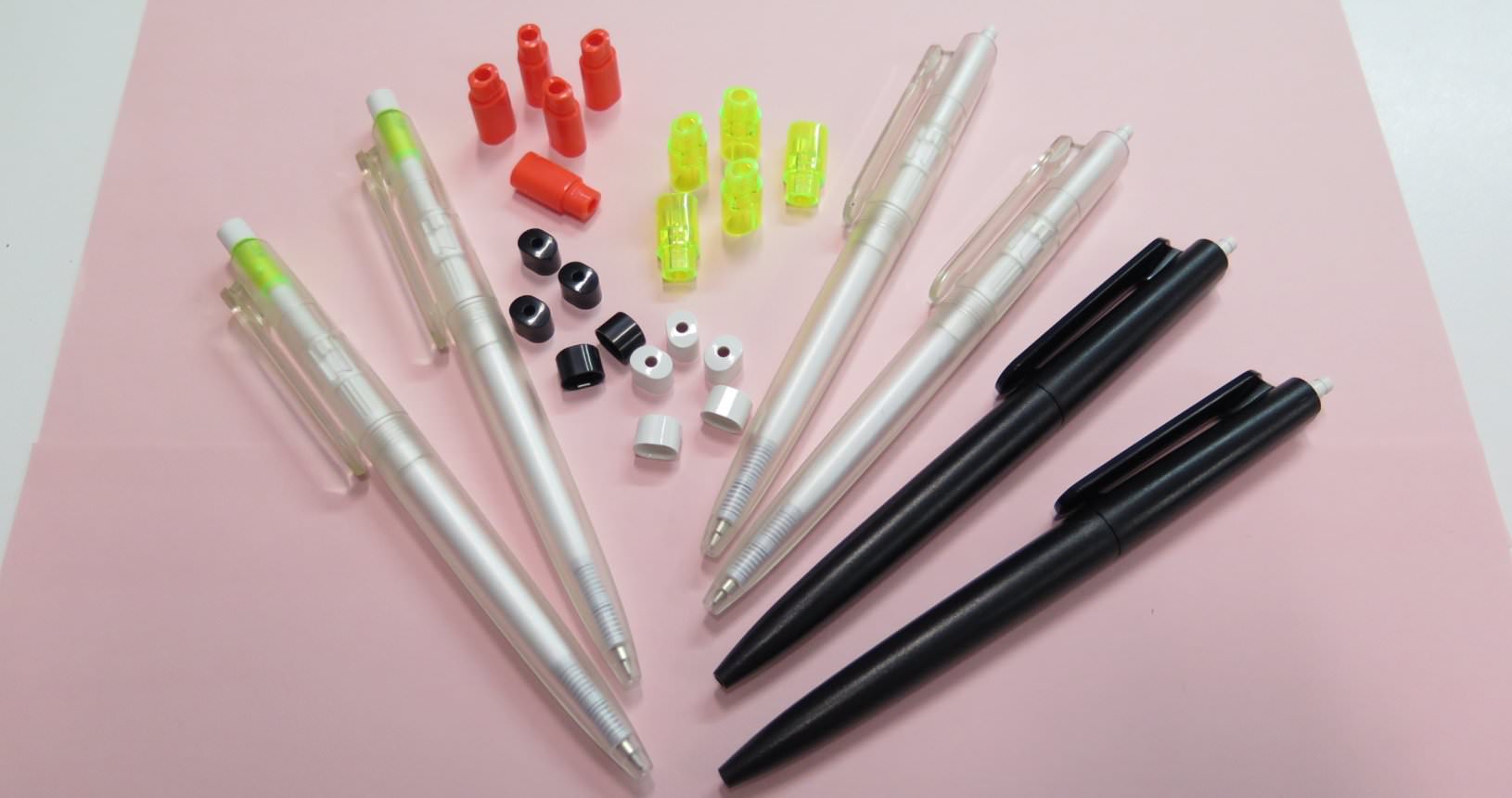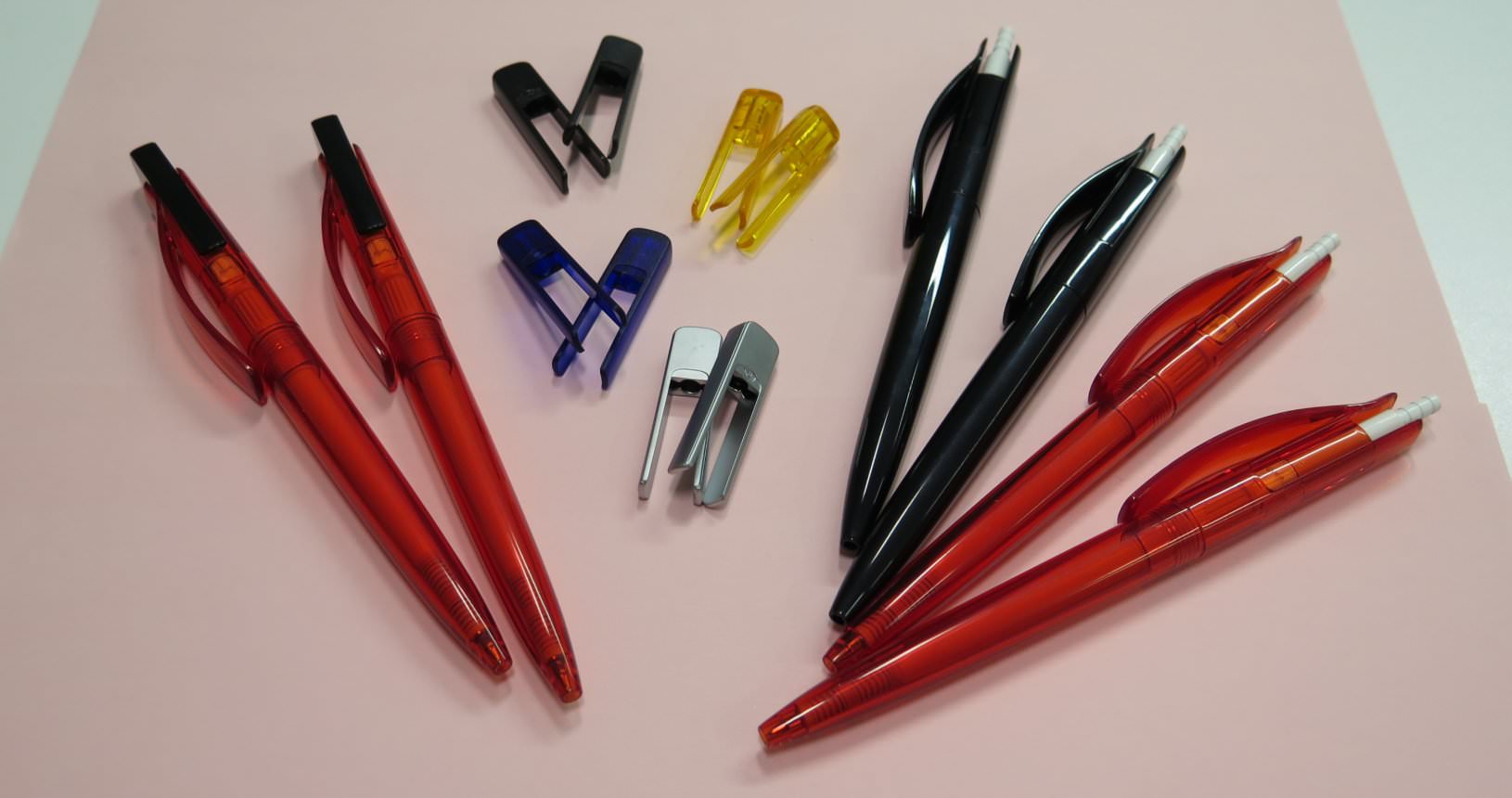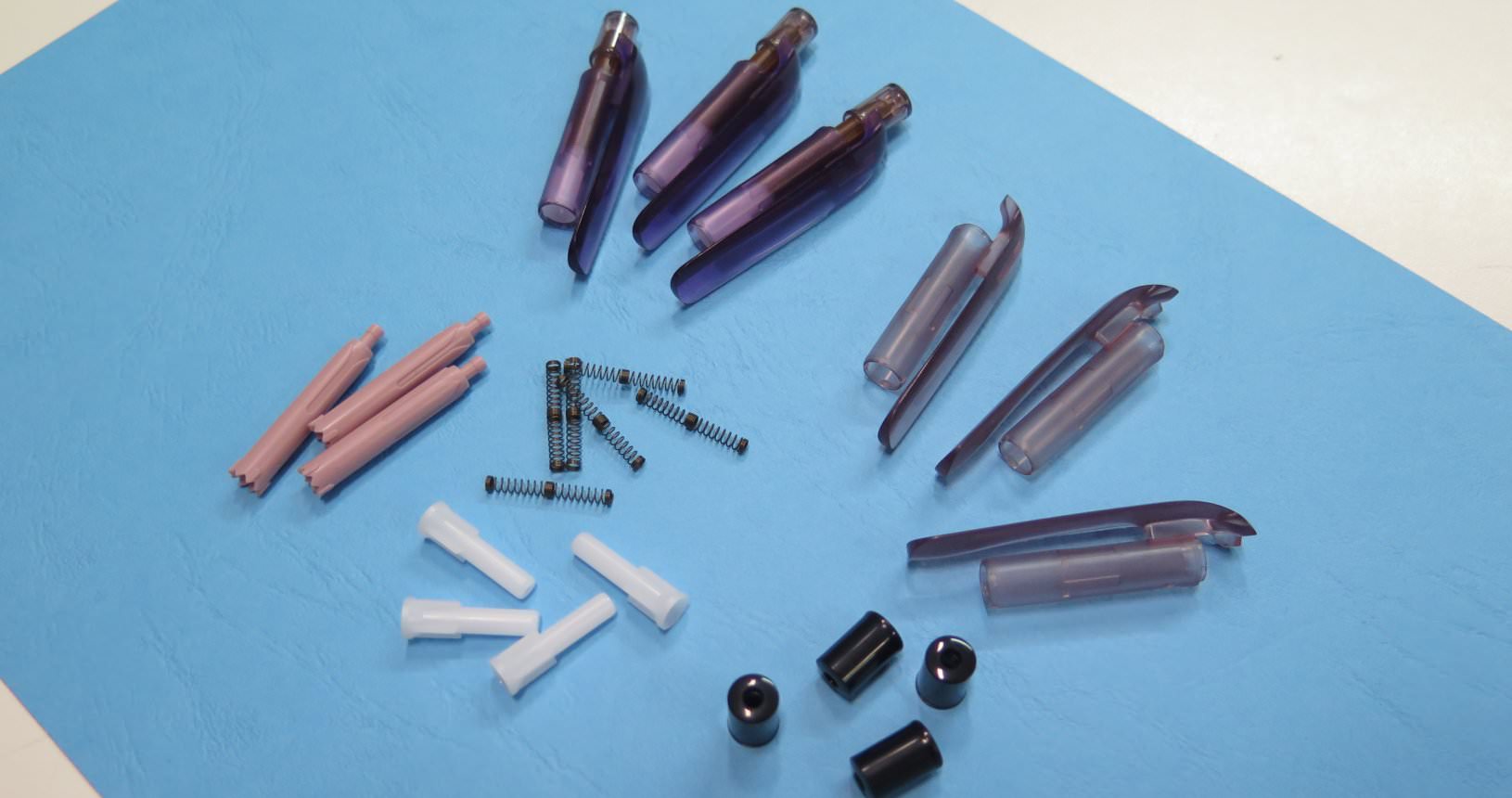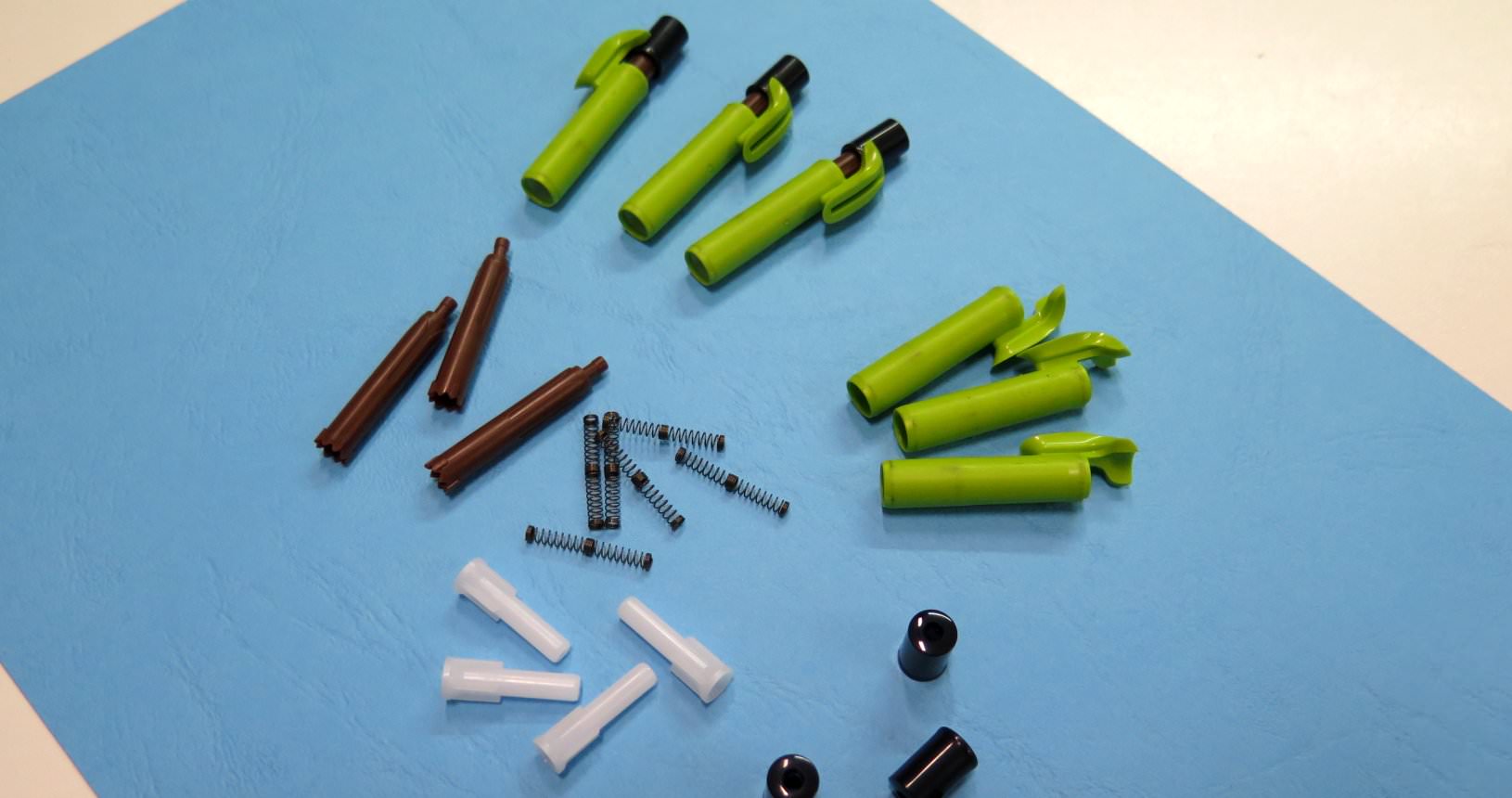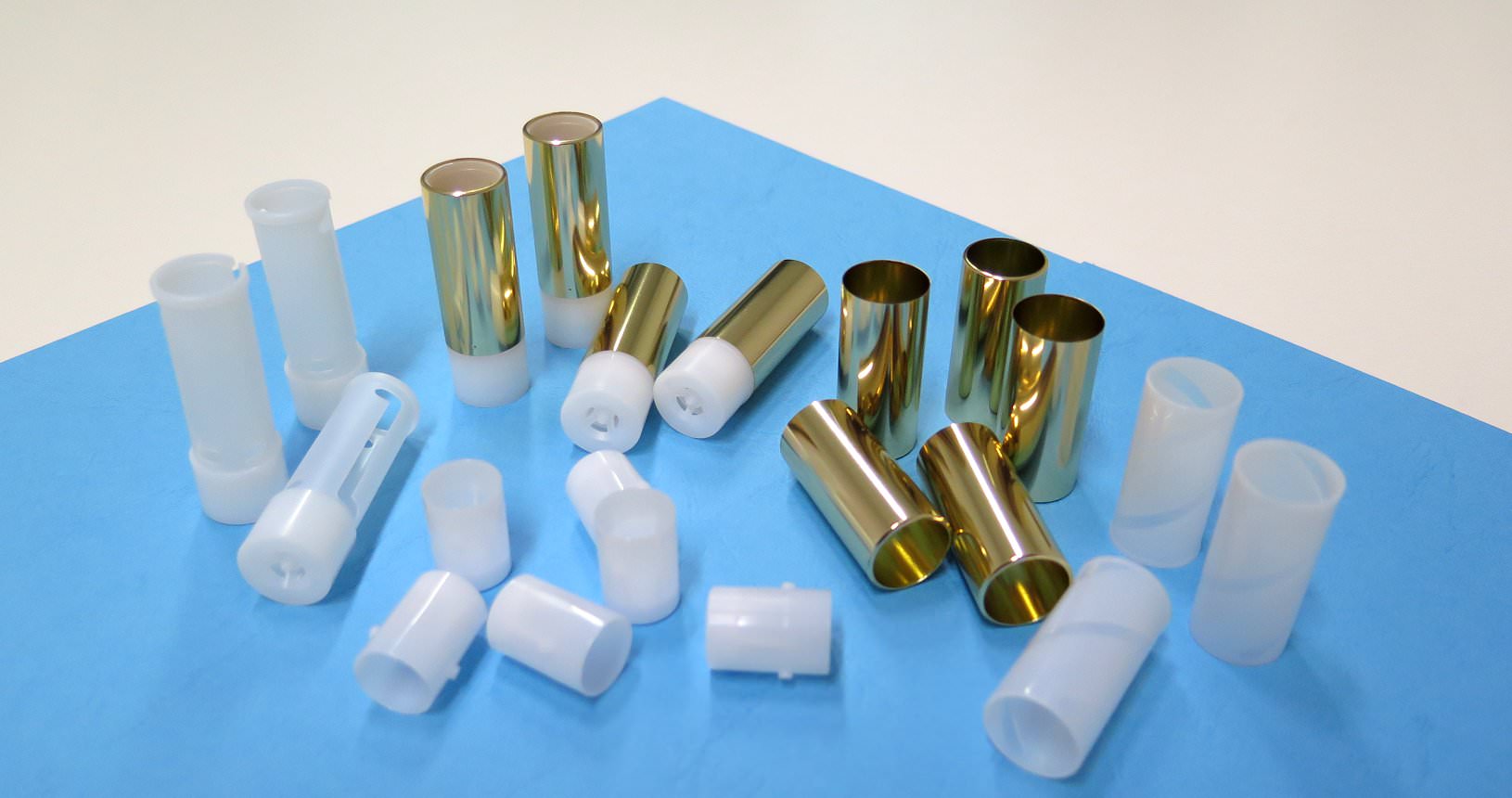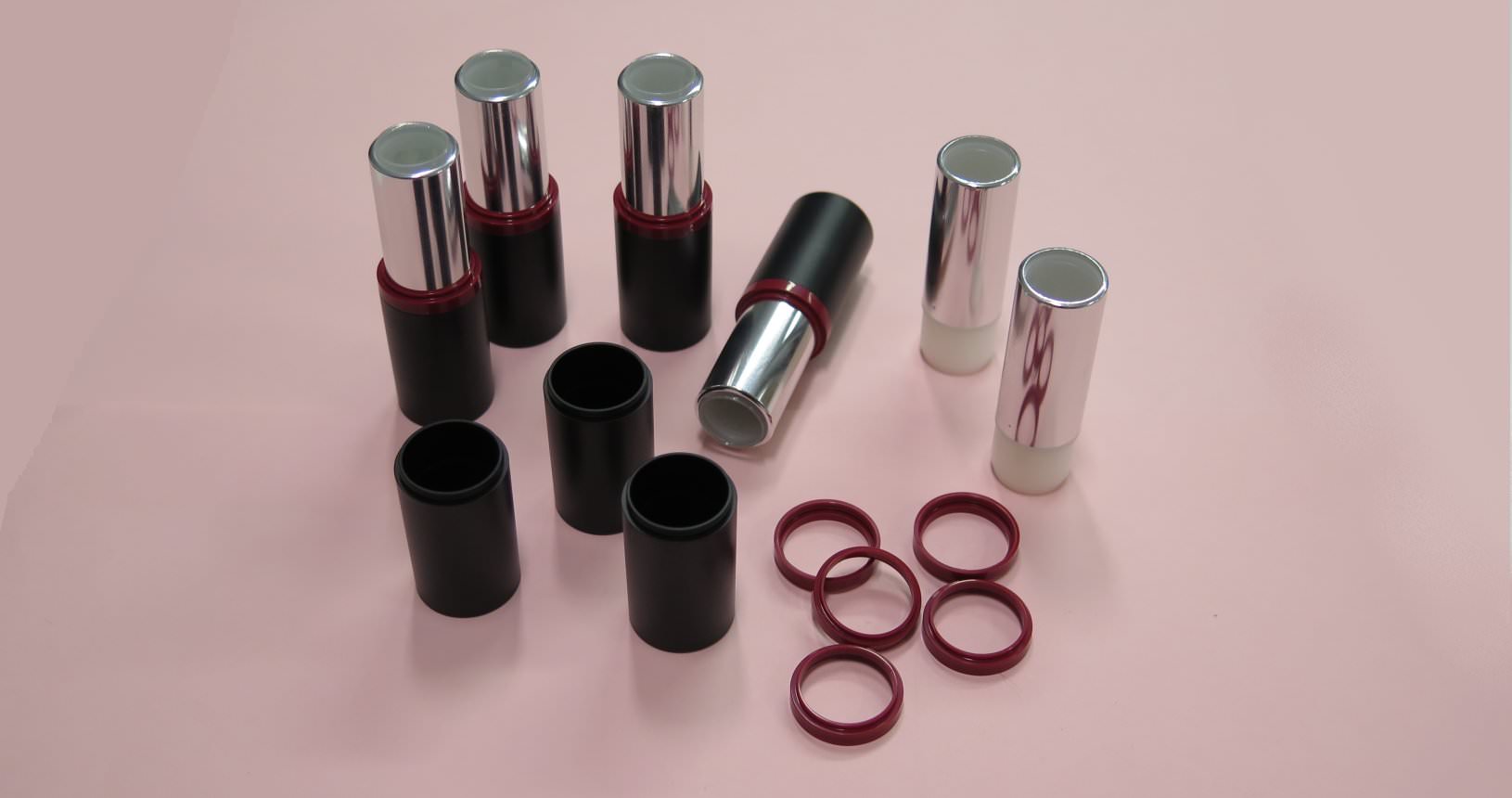 In cosmetics, some applications of delsa machine are involved in the assembly of:
• lipstick mechanisms
• finished lipsticks
• mascara and lip gloss brushes
• powder case and mirrors
• pumps and valves for perfume bottles or spray cans.

Outside the cosmetics field, delsa also deals with other items, such as:
• capsules and dosing cups for bottle closure
• ballpoint pens
• pot handles.
delsa technicians are at your disposal to propose solutions for any type of item.
---
---
Here are some examples of assembly machine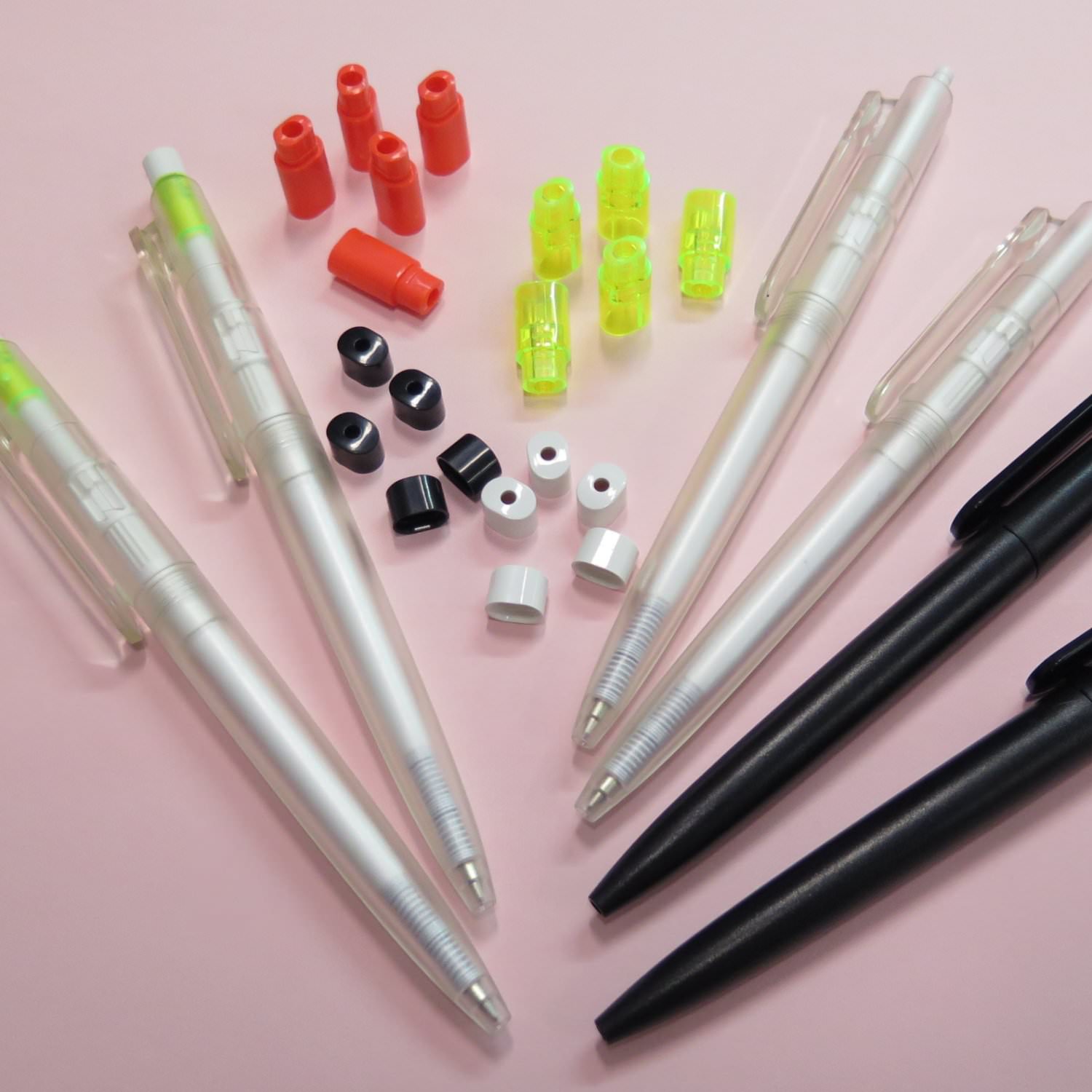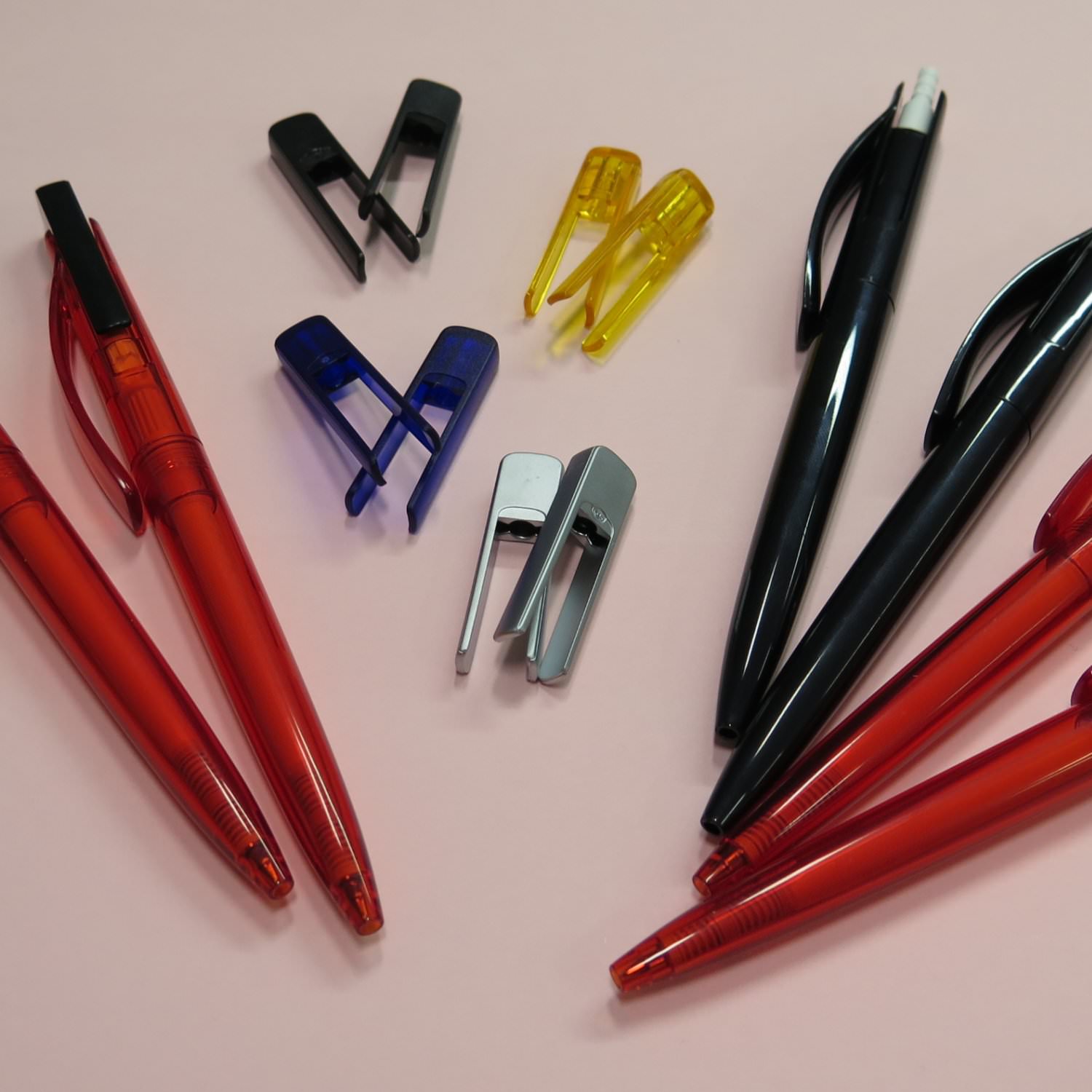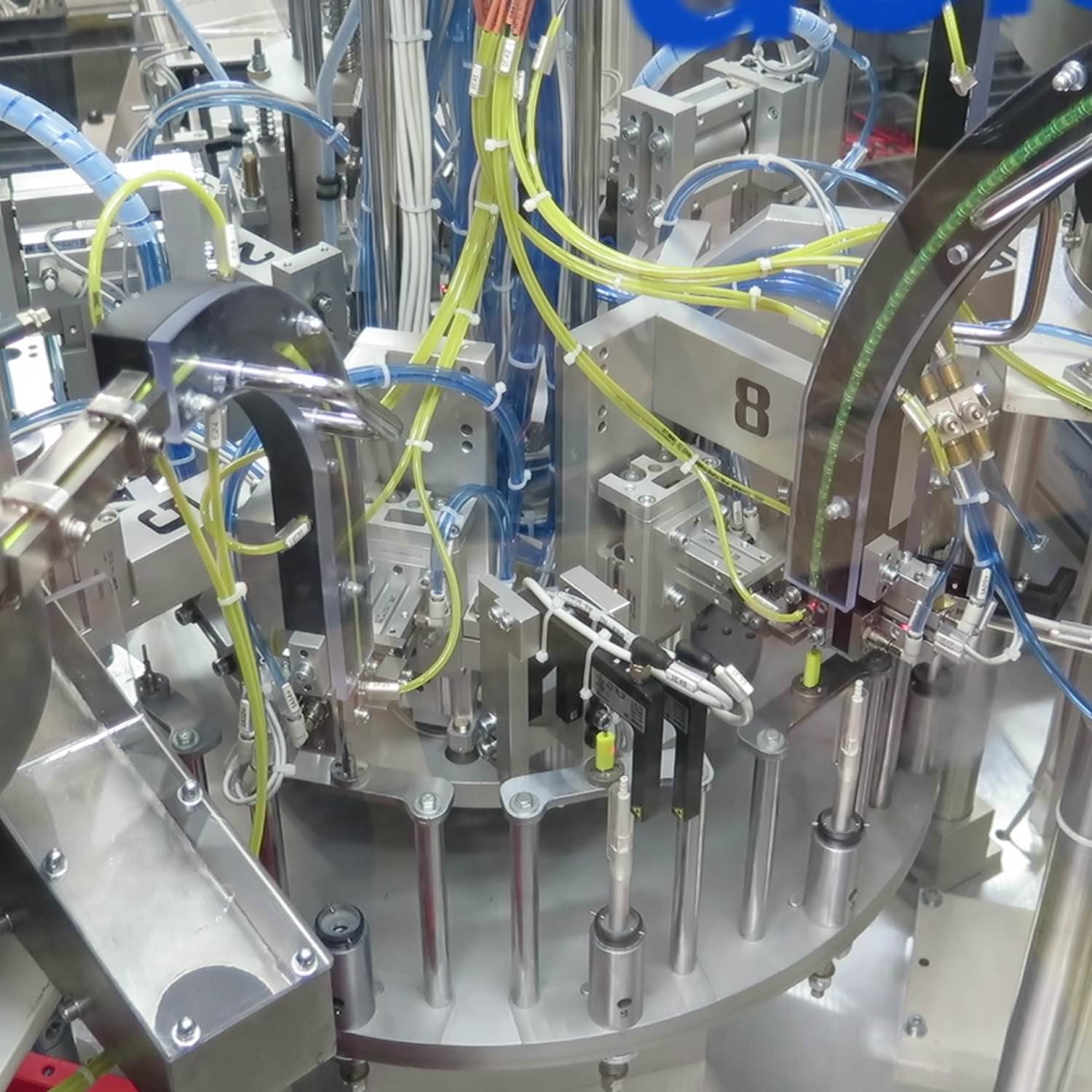 PEN ASSEMBLY MACHINE
---
Machine type MR12/12-PRODIR

• pen assembly machine with mechanical rotating table with 12 stations
• pen feeding system with palette binder
• loading of components from feeders
• pen loading/unloading mechanical arm
• cadence: 3000 pieces p/h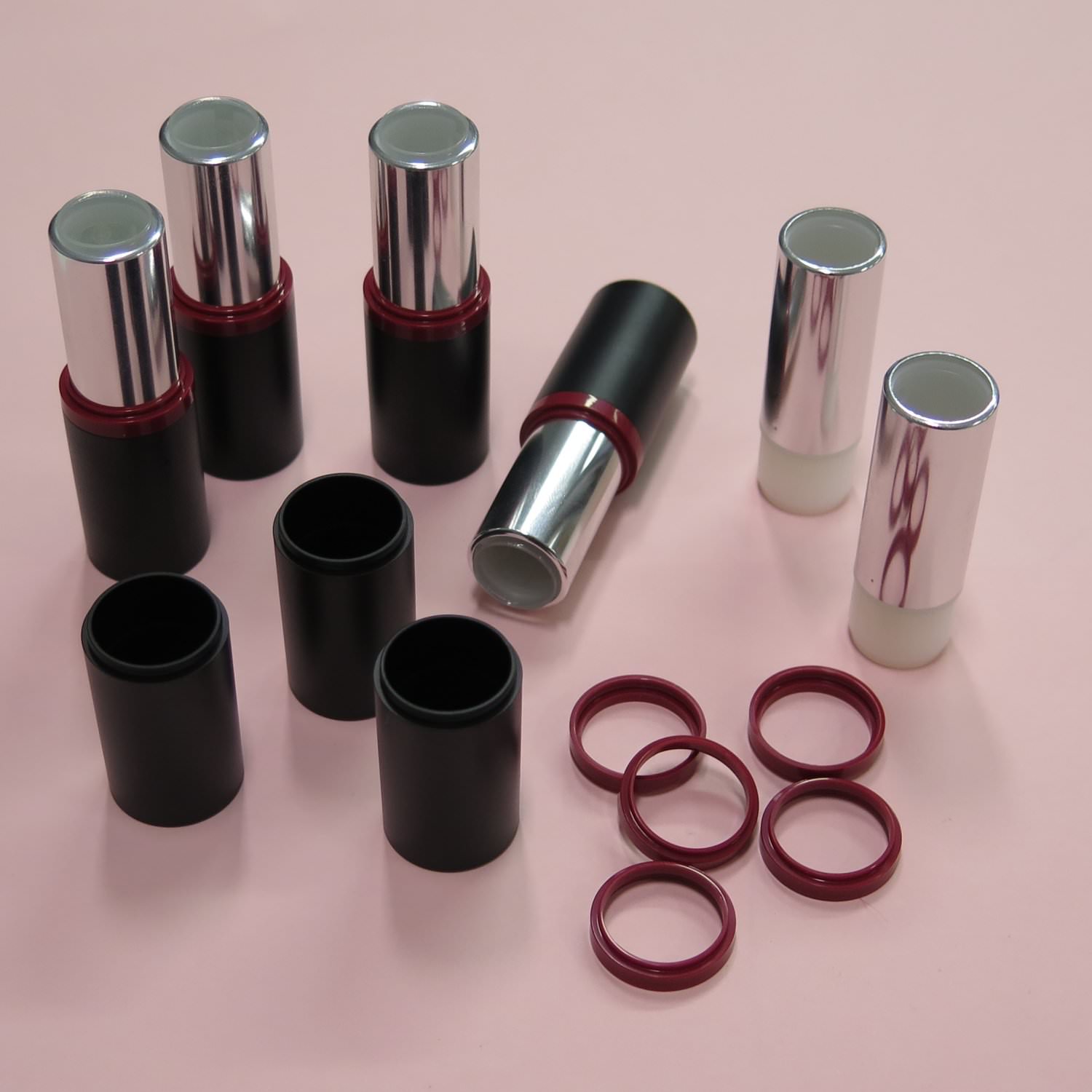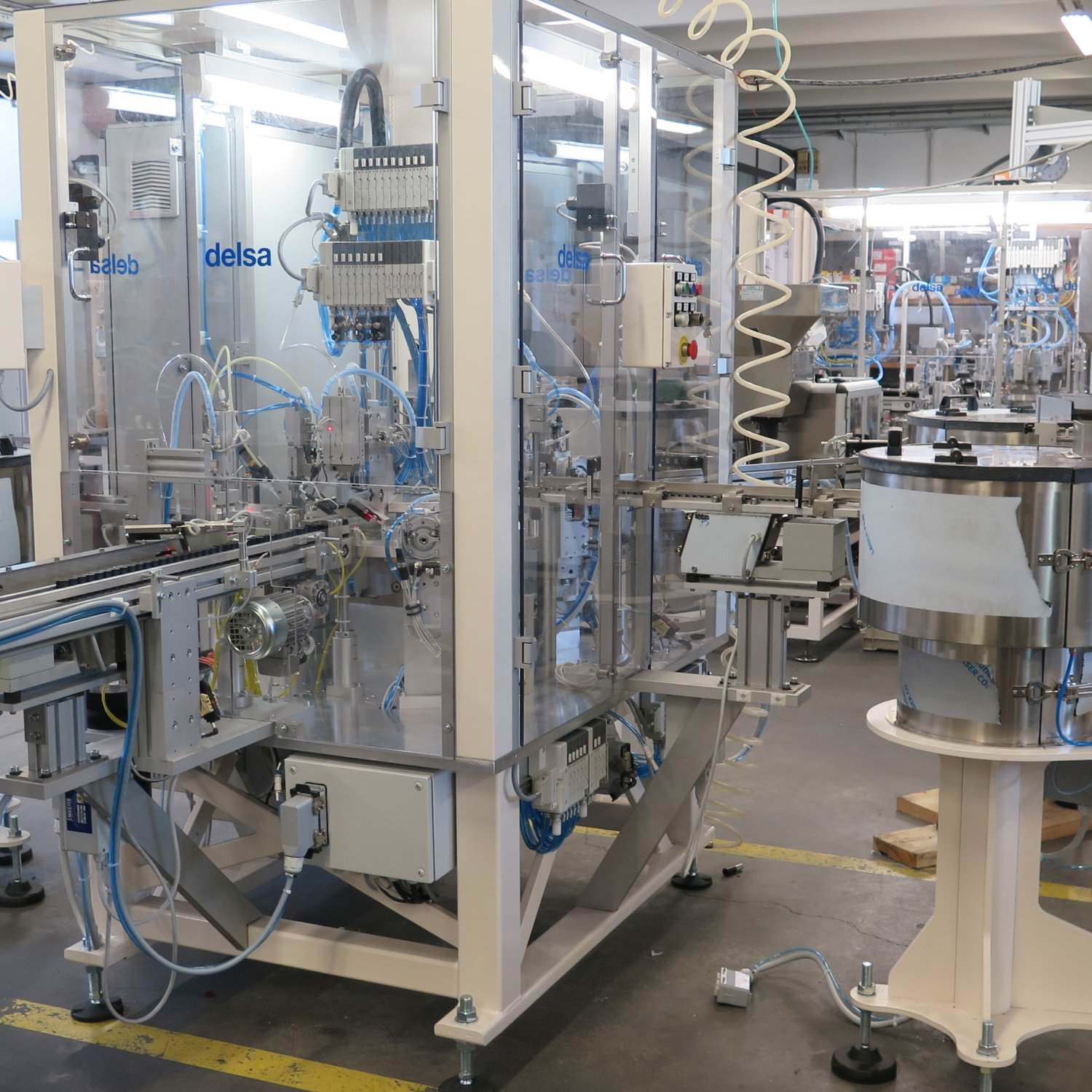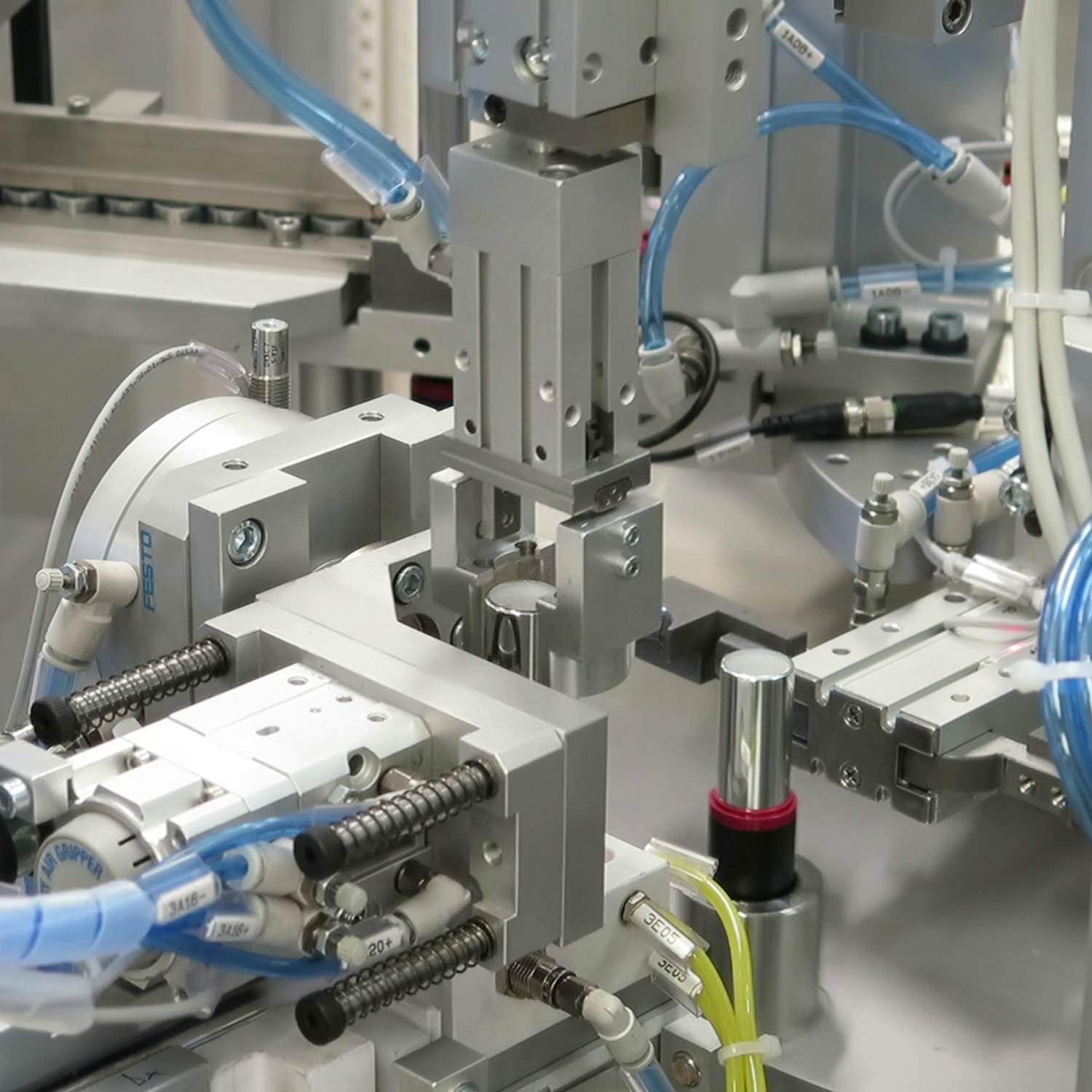 FINISHED LIPSTICK ASSEMBLY MACHINE
---
Machine type MB10/12

• lipstick assembly machine with rotating table with 12 stations
• injection power supply of the press base
• base unit vibratory feeder, ring, ballast and mechanism
• ring gluing/base with cyanoacrylate glue
• cadence: 2400 pieces p/h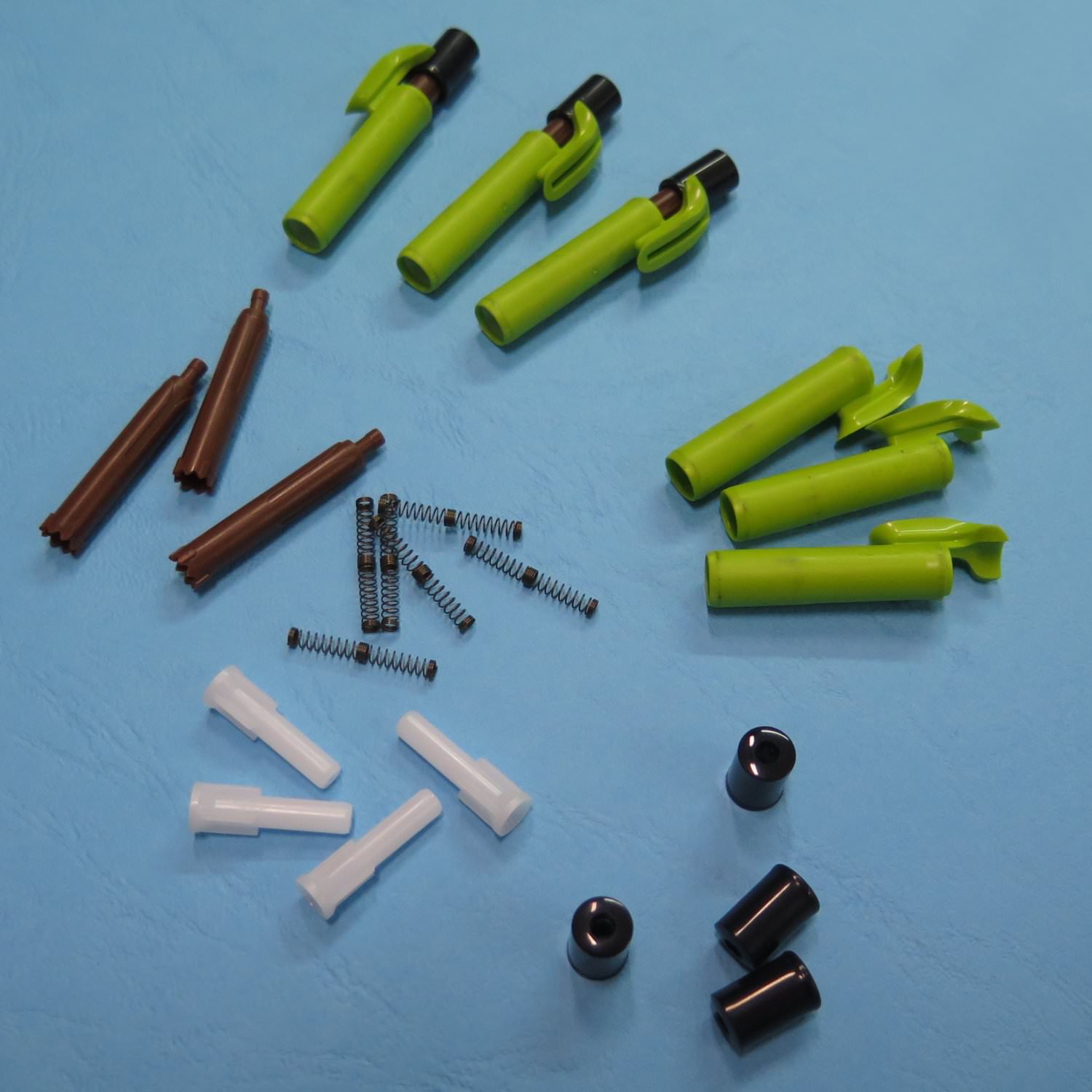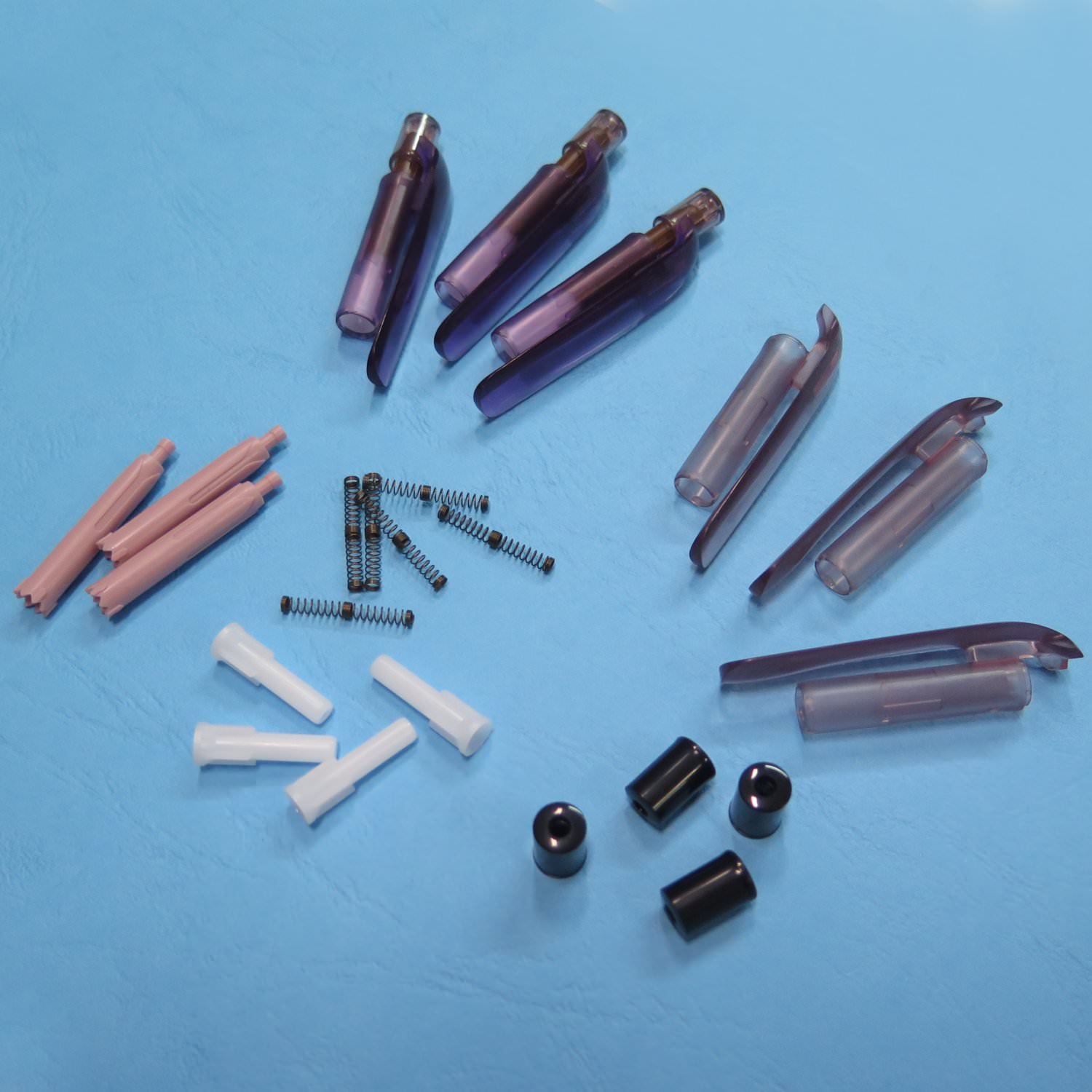 PEN ASSEMBLY MACHINE
---
Machine type T10/24-DS6+DS8

• pen assembly machine with mechanical rotating table with 24 stations
• pivot unit vibratory feeder, clip, push button / subbuttons, spring, rotor
• processing on 2 lines: external line for loading and controlling components; internal line for preassembled control and unloading of the finished item
• cadence: 3000 pieces p/h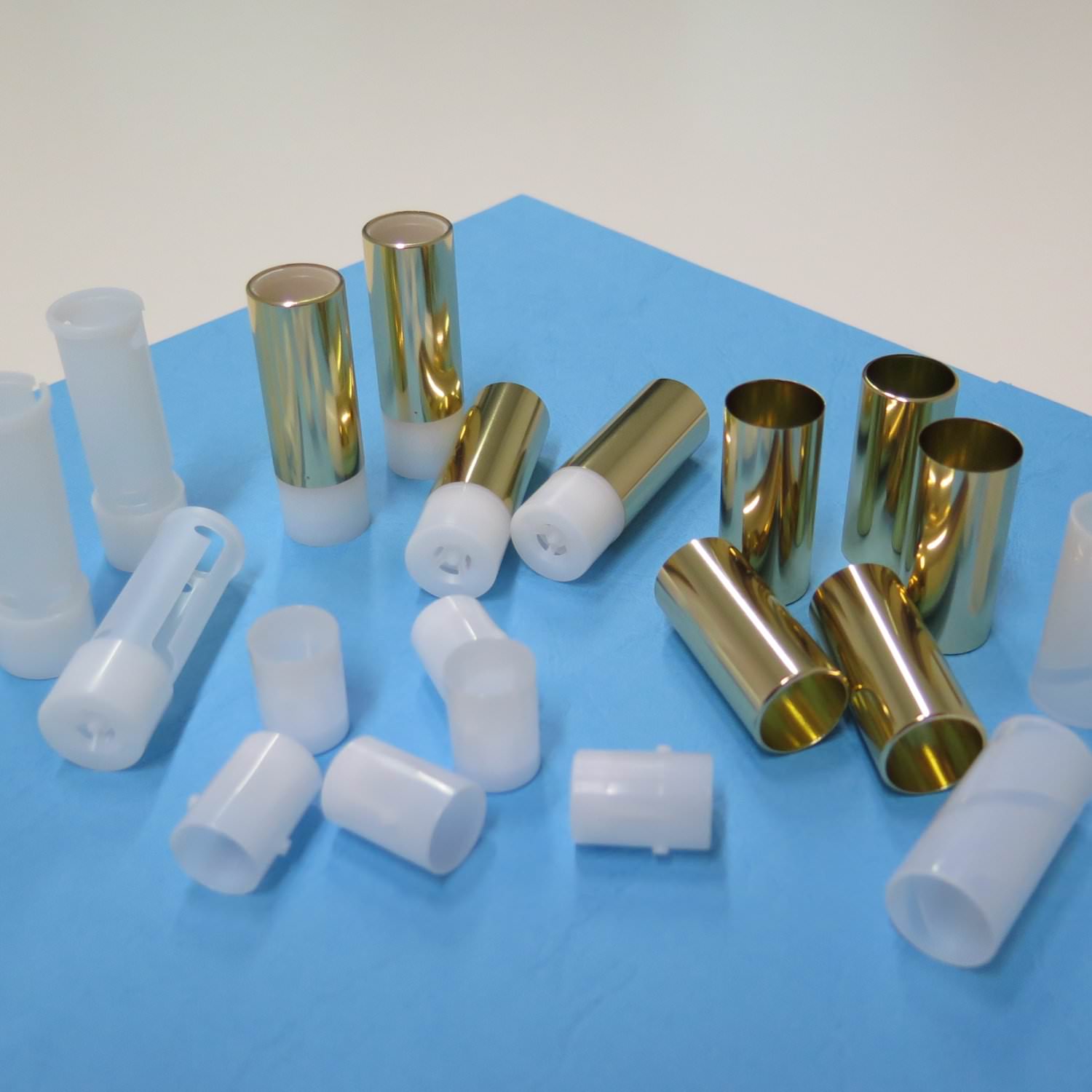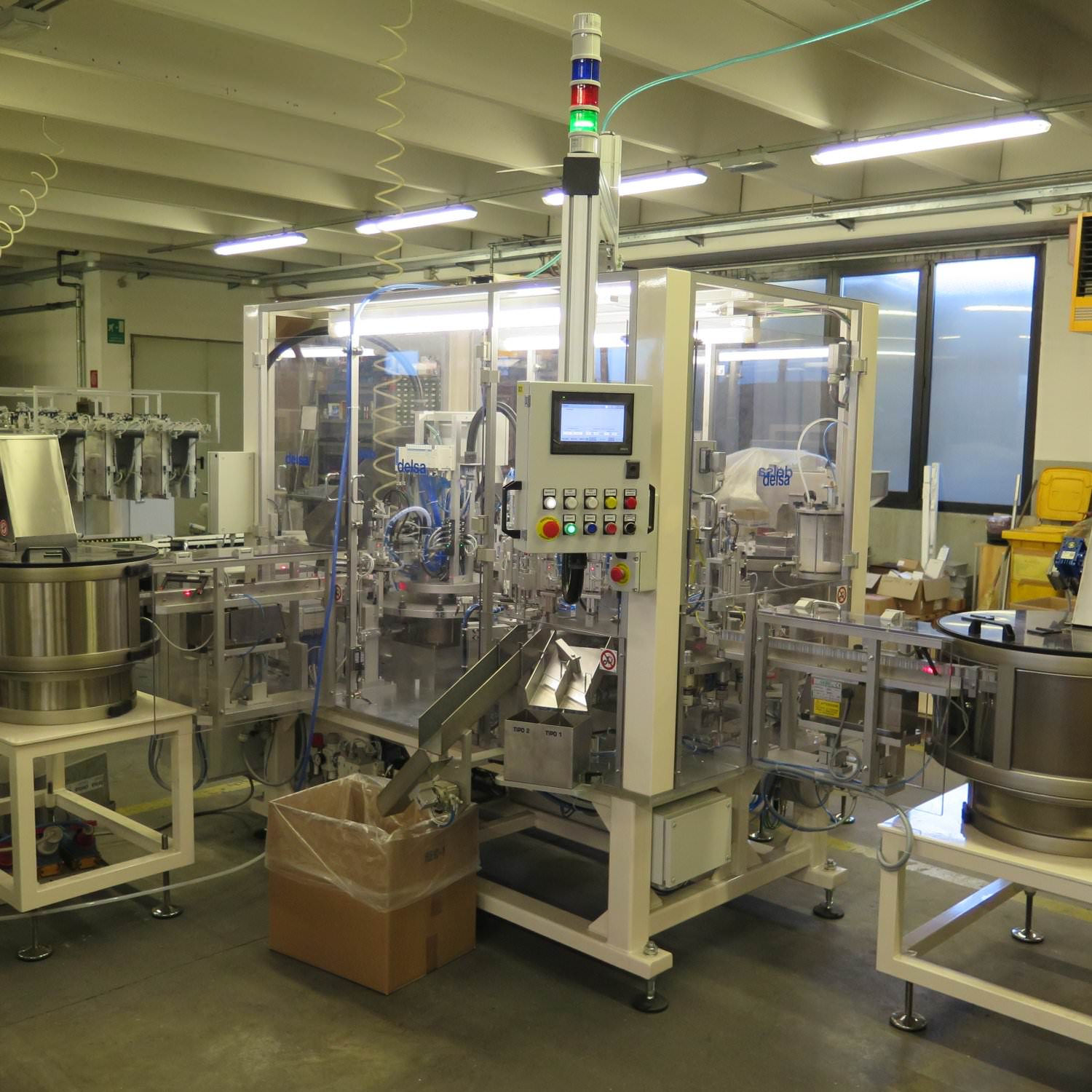 LIPSTICK MECHANISM ASSEMBLY MACHINE WITH 4 COMPONENTS
---
Machine type MR12/16+12-3000

• assembly pneumatic machine for lipstick mechanism with 4 components and mechanical 2 rotating tables
• body unit vibratory feeder,cup, plastic clamp, monoblock clamp and mechanical clamp
• 16 mechanical grippers for piece holding on main disk
• cadence: 3000 pieces p/h